Contributing to the realization of a
sustainable society
In 1884, Furukawa Electric started smelting copper in Honjo, Tokyo and manufacturing electric cables in Takashima-cho, Yokohama.
The Furukawa Group's founder, Ichibei Furukawa, is said to have worked to build a new Japan with the aim of "making Japan brighter."
We have inherited this idea from him and will continue seeking to "make the world brighter" as a unique player with diverse material technologies in fields such as infrastructure and automobiles.
Overseas bases meeting needs
worldwide
(as of March 2022)
Furukawa Electric has built a global network that responds to customer demand and earns customer confidence by quickly delivering products of excellent quality at highly competitive prices.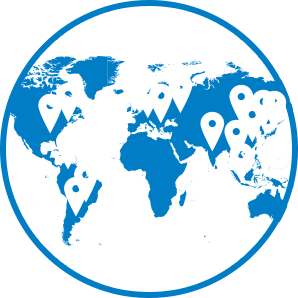 Diverse employees developing our business
all over the world
(as of March 2022)
Furukawa Electric is actively promoting diversity so that diverse individual employees can capitalize on their strengths.
Nurture human resources at every level,
so that we can become a
more diverse and creative organization
(Data in all cases as of March 31, 2021)
Based on the idea that "people are the foundation of our business," Furukawa Electric aspires to corporate growth at the same time as the enrichment of the lives of its individual employees. To keep all employees working actively, we focus on developing their work environment from various angles, such as bringing in arrangements that facilitate a more flexible, efficient work style, upgrading systems that support them in continuing to work, and providing training that stimulates personal growth.
L-Mark accreditation
Furukawa Electric was the first companies in the non-ferrous industry to be given L-Mark accreditation, which is awarded by the Minister of Health, Labour and Welfare to companies with outstanding initiatives in the promotion of women's careers.
Creating new value through a collaboration in the Furukawa Electric Group and open innovation
By concentrating our Group's strengths under the theme of "helping to create a pleasant society based on our developed material technologies," we will contribute to society through our material technologies.